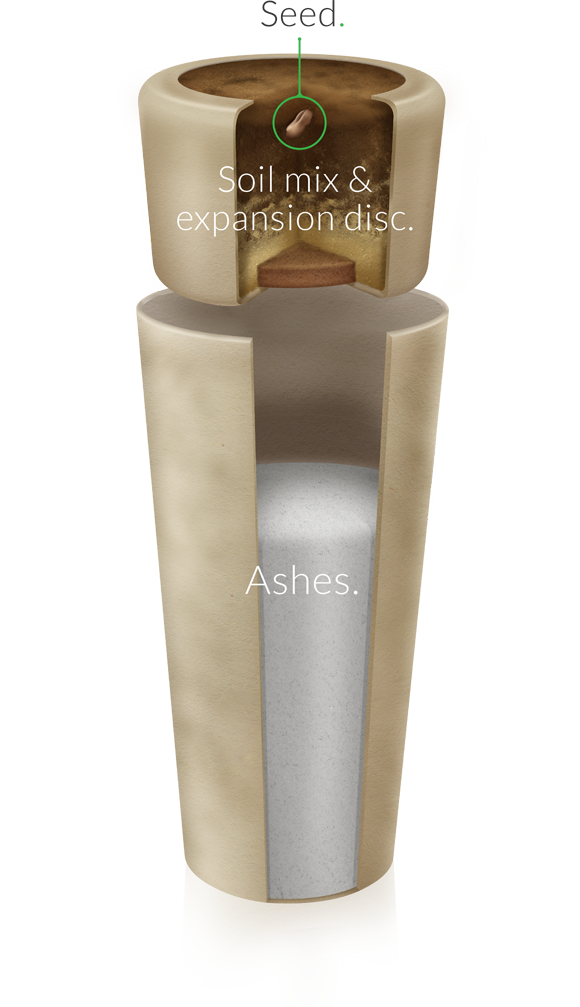 Bios Urn
Bios Urn is much more than an urn — it's a catalyst for life. It is made using 100% biodegradable materials, and is respectful to the environment in all the ways possible. Built with a special capsule that meets the needs of any type of tree, it's the perfect medium to allow for the proper growth of a tree or plant when planted with the remains of your loved one.
The prepared soil mix allows a perfect water flow while the expansion disc increases in size to mix the ashes.

The lower cone of the Bios Urn holds the ashes during the decomposition period of the urn, and aids the development of the tree.

100% biodegradable

Designed to respect our environment The Bios Urn is made using a custom moulding system which is produced without the use of glues or chemical additives. The degradation of the product is respectful to the environment because of its organic components.

Back to nature, back to life.

The Bios Urn let's you grow a tree using the remains of your loved one. The Bios Urn can be planted in any natural environment.

Outdoor planting
Seed & sprout compatible
Special growth medium
Packaging with instructions
Soil expansion disc
Bios Urn is a company driven by Gerard and Roger Moliné, two brothers that believes design, in conjunction with nature, has the ability to change the world. Supported by more than 15 years of natural projects, Bios offers a smart, sustainable and eco-friendly solution to approach an inevitable phase of human life. Bios aims to change the way people see death, converting the "end of life" into a transformative process and promoting a return to life through nature.
Death is nothing but a word. A construction of the human mind. The only thing real, is life.