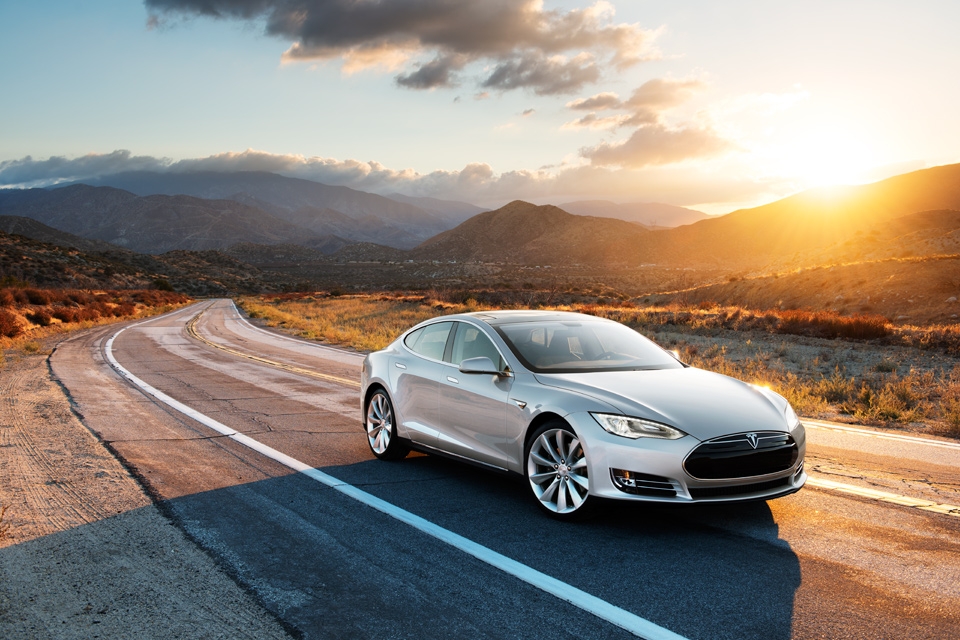 Elon Musk
Tesla has become incredibly popular in recent years. The electric car company's revolutionary powerwall battery allows you to charge your car with energy generated from residential solar panels. It has already sold out through 2016. And Elon Musk is hoping his Model S will be the first mass-produced all-electric car. He's building a Tesla Gigafactory outside of Reno, Nevada that he is hoping will put production at 500,000 cars per year.
Musk is also working on "conquering range anxiety" with Tesla models averaging between 200 and 270 mpg. Tesla is rapidly expanding its network of supercharging stations across the country. The company even partnered with Airbnb to install charging stations at host homes, first in California and eventually around the country.
So it really comes as no surprise that celebrities can't get enough of Musk's Tesla. Two nights ago, Stephen Colbert mentioned to Musk on his new Late Show that he personally owns a Tesla. Turns out, so do a lot of other celebrities.
1. Jay Leno
2. Cameron Diaz
Cameron Diaz walking back to her Tesla in Hollywood. She was one of the first celebs spotted in the new Tesla Model S pic.twitter.com/PD0lzfo9d5 — Wheels&Heels (@Wheelsandheels)
3. Matt Damon
Matt Damon in his 100% electric Tesla Roadster. pic.twitter.com/qPt3CeXzL2

— AutoSports Art (@AutoSportsArt)
4. Steve Wozniak (Co-founder of Apple)
Steve Wozniak #Tesla 'sını şarj ediyor; işte ulaşmamız gereken kare. pic.twitter.com/VVfT9UjV2I — Cemil ÖZKEBAPÇI (@cemilozkebapci)
5. Jennifer Garner
Recently spotted Jennifer Garner getting out of a brand new Tesla Model S! pic.twitter.com/CJB2D9L4

— Wheels&Heels (@Wheelsandheels)
6. Sergey Brin (Google co-founder) not only owns a Tesla, it's a Model S hot pink batmobile. Could it get any better?
#suaju #share #media Sergey Brin Steps Out in Google Glass… And a Hot Pink Tesla Batmobile.. #google #internet http://t.co/4pILIn5ApR — sMedia 2 sCommerce (@Media2Commerce)
7. No surprise that the perennial enivronmental activist Leonardo DiCaprio owns one.
Leonardo Dicaprio loves his Tesla! pic.twitter.com/Mq1jiQC8aX

— MBEVA (@MBEVA2)
8. Alyson Hannigan (How I Met Your Mother)
At http://t.co/OsrUrcJLNe — Alyson Hannigan plugging her Tesla. In anticipation of my arrival of my Model S ev… pic.twitter.com/c59TWzpNaA — Crazy4cars (@Crazy4cars2)
9. Looks like Ben Affleck likes to "ride dirty" to save water in the drought.
At http://t.co/OsrUrcJLNe — Ben Affleck needs a detail of his Model S. #tesla #teslaev#teslalife #teslastyle … pic.twitter.com/P2towiwCMC

— Crazy4cars (@Crazy4cars2)
10. Steven Spielberg
11. Morgan Freeman
@electro_mov: TESLA OWNERS CELEBRITIES: Morgan Freeman and his #TeslaModelS@TeslaMotors pic.twitter.com/jVAKk7t2SY

— Mark Schwietz (@MBSchwietz)
12. Will.i.am
Joanna Lumley in http://t.co/noE2FGjMJY's #Tesla Model S when he floors it pic.twitter.com/g8cqYldu6m — Grant Thomas (@GrantAThomas)
Read page 1 13. John Stamos
John Stamos and environmentally friendly transportation .. #Tesla #electricvehicle#ElectricZoo pic.twitter.com/CTfMXEdFmr — LA Kristiansen (@LaLaKristiansen)
14. Don Cheadle
Don Cheadle now parks an electric motorcycle next to his Tesla. via @HWoodElectrics@TeslaMotors @ZeroMC pic.twitter.com/Icy4TSFBeO — Calvin Klesmith (@CalvinKlesmith)
15. Darren Criss (Glee)
@DarrenCriss has a new car! Darren drives a Tesla Model S Base price is $52,400. So proud of him. He deserves it. pic.twitter.com/6PnlMDcBgh — priscilla ∞ (@priscillabel96)
16. When he's not skating around, Tony Hawk cruises in a Tesla.
Check out pro skater @TonyHawk's pristine @TeslaMotors Model S #MurderedOut#TeamAutoStorm #Tesla pic.twitter.com/Ubl6f75rDk — YOUR PHOTOGRAPHER (@ac_photography)
There's at least one celebrity who isn't in love with Tesla though. George Clooney had a Roadster but was reportedly unhappy with it and auctioned it off a few years ago. Maybe he will opt for a Model S now.
Automotive News – Disappointed, George Clooney Auctions Tesla Model S – http://t.co/VKQrIntozR pic.twitter.com/e7GjzLXhYf — fotohotfotoseksi (@fotohotseksi)