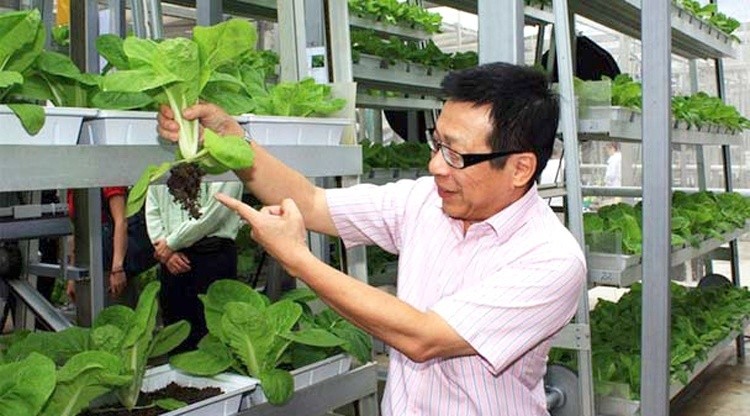 Vertical Farms
Year-round vegetables, minimal resources, climate-resistant—we've sung praises about vertical farms many times before. But Singapore's Sky Greens is something very special.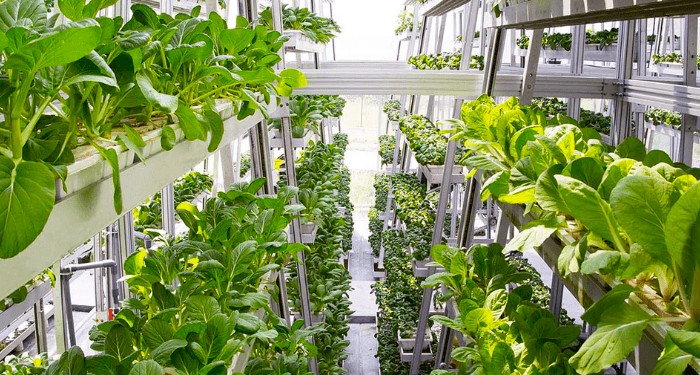 Designed by engineer and entrepreneur Jack Ng, Sky Farms runs on a so-called Sky Urban Vertical Farming System and is also heralded as "the world's first low-carbon hydraulic driven urban vertical farm."
What does that mean? Well, for such a modern and innovative idea, Sky Greens actually uses good ol' fashioned rainwater and gravity. Using a water-pulley system, 38 growing troughs rotate around an A-shaped aluminum tower that's about 9 meters (about 30 feet) tall. The rotating troughs ensure even distribution of natural sunlight for each plant.
Not only that, the same water used to turn the troughs also nourishes the plants. According to the company, "With the plants irrigated and fertilized using a flooding method, there is no need for a sprinkler system thereby eliminating electricity wastage, as well as water wastage due to run-offs."
"Only 0.5 liters of water is required to rotate the 1.7 ton vertical structure," the company boasts. "The water is contained in a enclosed underground reservoir system and is recycled and reused." Additionally, only 40W electricity, or the equivalent of one light bulb, is needed to power a single 9 meter tower.
The farm consists of 1,000 vertical towers and produces 800 kilograms of Chinese cabbage, spinach, kai lan and other greens everyday for the bustling Southeast Asian metropolis, according to The Straits Times. The farm has been producing vegetables commercially since 2012.
Check out the image below to see how it works.
Sky Greens Vertical Farm in Singapore; … http://t.co/XYZnid9SmH

— Gardening DIY Life (@GardeningLif)
Sky Greens' vegetables do cost slightly more than fare from traditional farms. "A 200g packet of Sky Greens xiao bai cai costs $1.25, while a 250g bag of Pasar brand xiao bai cai from a traditional farm in Singapore costs 80 cents," The Straits Times reported.
However, the publication also pointed out the freshness factor: it only takes four hours for Sky Greens' produce to hit the shelves versus the three days to three weeks that imported vegetables require.
Vertical farming is ideal for densely packed cities such as Singapore, which only produces about 7 percent of the vegetables it consumes. Its 5 million inhabitants occupy a total land area of only 275 square miles. (To compare, Los Angeles is twice the size of Singapore with a population of 3.8 million). With this lack of land, nearly 93 percent Singapore's "fresh" produce is imported. The Sky Greens solution not only cuts the distance that food has to travel to get to plates, it helps ensure Singapore's food security and helps the local economy.
In the video below, Ng explains how the system works and why it's ideal for Singapore, a city with limited land resources.
Sky Greens took home the INDEX: Award 2015 in the "work" category. The prize, one of the most prestigious in the design world, recognizes innovations that help improve the world.
The Sky Urban Vertical Farming System was given the award for representing "the next generation of sustainable urban agriculture" and for proving that "vertical farming can compete with, and produce better results than traditional farming," the award jury said in a statement.
"Moreover," the jury added, "it is a scalable design that can be implemented almost anywhere in the world, and has the capacity to ensure more food supply resilience across the globe, as well as preserve the world's natural resources."
Jury member Simona Rocchi, the senior director for sustainable design at Philips, called the system "a brilliant combination of high-tech and great design thinking."
As for how Ng will spend his €100,000 Index prize? "I [will] use this recognition as a platform to inspire young designers, architects, entrepreneurs to contribute their ideas, ideals and passionate energy to meet the global challenge in food production sustainability as well as my peers and contemporaries (I am 51 years old—half a century!) to follow my example by investing in the next generation with their experience and resources," Ng said in a statement.
"Specifically, I would also like to encourage more people with good scientific and engineering knowledge to apply their expertise to transform agriculture and save our environment," he continued. "At the same time, I would like to demonstrate that it is important that as long as you adopt the spirit of serving the greater good of customers, community or even the entire human race, success can follow."
Article written by