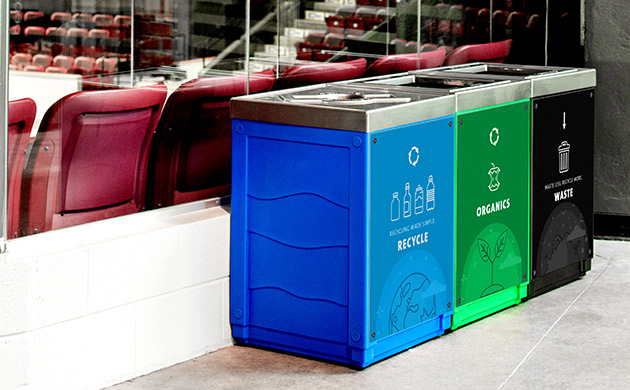 Busch Systems
Our E-mail inbox is flooded with various stories, products, concepts related to the environment and I read all of them. All of the e-mails are interesting and important to us because all have information and content related to a subject WhosGreenOnline.com is so very passionate about; "Our Environment!"
Through our daily travels in Life, we enter/visit numerous establishments that can take advantage of recycling. Let's start w/ our home, then we travel to our workplace, we go to malls, (indoor/outdoor), we go to sport stadiums, arenas for concerts! A place I visited recently was Harrah's Casino, I was walking through the casino floor on the way to our beautiful room, as I do so often, I looked inside the trash can and saw 3 plastic water bottles thrown inside the can? I thought to myself, "what a wasted opportunity" to recycle. This discovery is quite often, I constantly, almost daily, see wasted opportunity for recycling.
Last week, we received an e-mail from Busch Systems, as I opened the e-mail, I thought to myself, "now this is a wonderful product/concept" much needed in our present industrial lifestyle! With so many plastic products being sold today and with such a problem with plastic on our planet today, I realized that sharing Busch Systems with our readers was essential to addressing the recycling opportunity!
Here's a little bit of info. about Busch Systems:
To support everyone who cares about waste diversion with leading edge products and services that maximize the quantity and quality of their recycling program.
Who are we? We're an innovative, passion-driven group of people who design, recommend and customize recycling and waste solutions for different collection programs across different industries. We believe in treating our clients and each other with respect and enthusiasm. We're dedicated to our philanthropic efforts and activities on and off the company clock!
Busch Systems has been passionately delivering recycling and waste solutions for over 30 years and is the #1 rated brand in the industry according to Trustpilot! We started as a curbside bin manufacturer and have since moved our focus to centralized stations and consulting services.