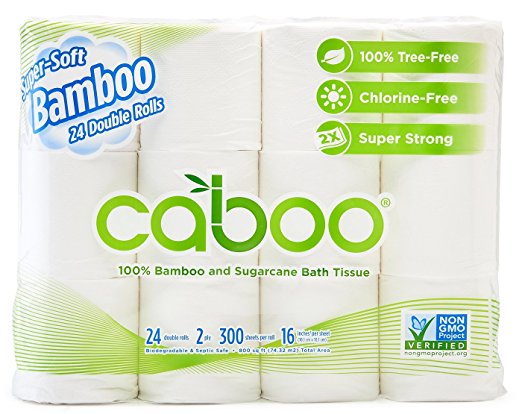 Bamboo Toilet Paper
Caboo Tree Free Bamboo Toilet Paper, Septic Safe Biodegradable Bath Tissue, Eco Friendly Soft 2 Ply Sheets, 300 Sheets Per Roll, 24 Double Rolls.
Product description
Size:24 Double Rolls
Natural Toilet Paper made from 100% Tree Free

Organic

Bamboo & Sugarcane, both are fast growing grasses giving you a sustainable eco friendly alternative to traditional tree based bath tissue
100% biodegradable and septic safe for all disposal systems, perfect for RVs, boats, camping, travel, backpacking, and more
Soft & Strong 2 ply sheets give you the perfect combination of bamboo's strength & sugarcane's softest fibers that produce a much softer and stronger product than recycled toilet paper of the same weight
Hypoallergenic, BPA free, fragrance free, paraben free, free of elemental chlorine, and non-GMO project verified, giving you full transparency and unmatched excellence
Contains a total of 24 double rolls with 300 sheets per roll. Caboo is accredited by the BRC Global Standards, FSC, ISO 14000, and is proudly panda friendly
THE PROBLEM
Did you know that globally humans cut down around 900,000 trees daily for paper products, including 27,000 trees for toilet paper alone? The average person uses 19ft of toilet paper per day. That's a lot of trees that will take decades to replace, or that may never be replaced. We wanted to find a sustainable alternative.
OUR SOLUTION
Because bamboo and sugarcane are grasses, not hardwoods like trees, they are fast growing and do not require replanting. That makes bamboo and sugarcane a sustainable alternative to conventional paper made from trees, as part of an effort to minimize our overall environmental footprint.
We aim to use the most innovative technology and materials in order to provide sustainable, treeless paper that is also luxuriously soft and very strong.
This item:Caboo Tree Free Bamboo Toilet Paper, Septic Safe Biodegradable Bath Tissue, Eco Friendly Soft 2 Ply… $27.99