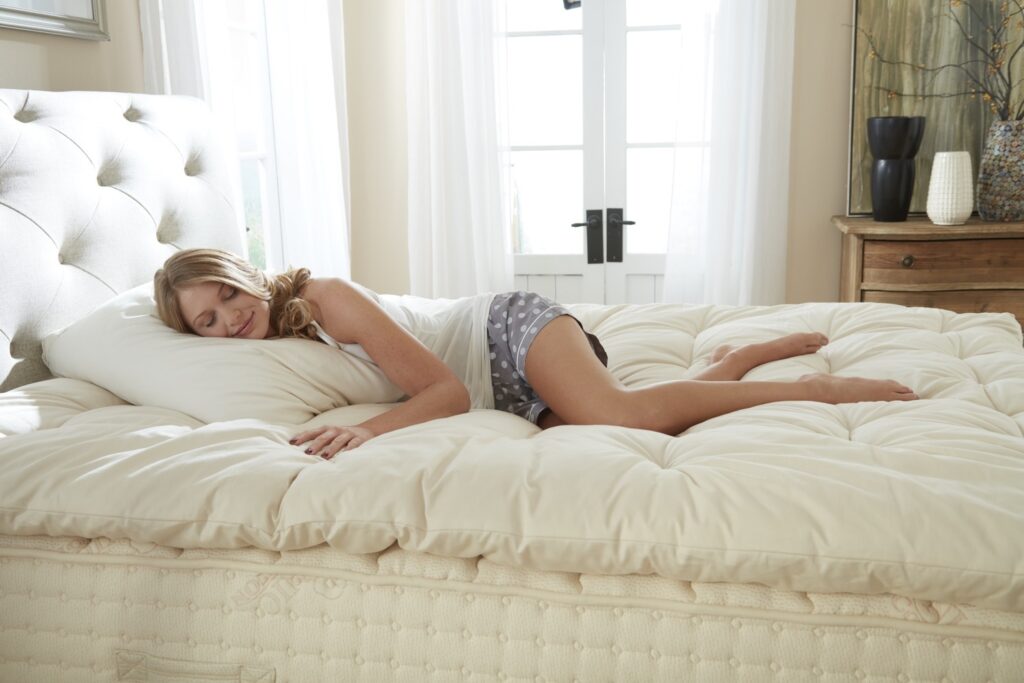 ABOUT PLUSHBEDS
*** Memorial Day Sale!
PlushBeds is a leading online luxury mattress manufacturer and retailer, specializing in organic latex mattresses. All of PlushBeds mattresses are handcrafted in California, and customized just for you, with the finest quality organic materials. PlushBeds mattresses are GOLS, GOTS, EcoTex Standard 100 and GreenGuard Gold certified for purity. All of PlushBeds mattresses come with a 100 night free trial, free shipping and free returns. They also come with a 25 year warranty.
It is PlushBeds' commitment to excellence in craftsmanship and to a superior customer experience that has driven them to become America's largest online distributor of organic latex mattresses that are as affordable as they are indulgent.
SOCIAL MISSION:
PlushBeds mission is to be the best source for organic mattresses and sleep products, while maintaining environmentally conscious, ethical and sustainable business practices, to help safeguard your health and protect our planet.
SUSTAINABILITY:
At PlushBeds, sustainability is a defining characteristic of who we are and how we do business on a daily basis. Our commitment is reflected in all aspects of our operations, from the beginning – with product design and manufacturing, to the end – with logistics and recycling. Our products are healthy, environmentally responsible and safe for our employees, consumers and the environment.
We handcraft our mattresses using the highest quality, environmentally friendly, consciously sourced, certified organic raw materials, which come from renewable resources. We also conserve resources and reduce solid waste by recycling at the mattress manufacturing and assembly stages. We also partner with private enterprises and charitable organizations to promote the economic viability of recycling.
PlushBeds is also a Green America® certified business, Green Business Bureau Certified, member of the Sustainable Furnishings Council, The Forest Stewardship Council, Rainforest Alliance and we offset our carbon emission via our partnership with TerraPass.
PLUSHBEDS BOTANICAL BLISS ORGANIC LATEX MATTRESS:
Our Botanical Bliss Organic Latex Mattress has quickly become America's favorite organic mattress. Each mattress is handcrafted by PlushBeds artisans, using the finest quality organic materials, with unsurpassed craftsmanship and attention to detail. Each mattress is also made to order and customized for your body type and sleeping needs.
THICKNESS:
9" Botanical Bliss Organic Latex Mattress | 9 inches thick
10" Botanical Bliss Organic Latex Mattress | 10 inches thick
12" Botanical Bliss Organic Latex Mattress | 12 inches thick
MATTRESS LAYERS:
The 9″ Botanical Bliss Organic Latex Mattress has two, 3″ layers of GOLS certified, organic dunlop latex and one, 2" layer of GOLS certified, organic dunlop latex. It also has a GOTS certified organic cotton cover and GOTS certified organic wool.
The 10″ Botanical Bliss Organic Latex Mattress has three, 3″ layers of GOLS certified, organic dunlop latex. It also has a GOTS certified organic cotton cover and GOTS certified organic wool.
The 12″ Botanical Bliss Organic Latex Mattress has three, 3″ layers of GOLS certified, organic dunlop latex and one, 2" layer of GOLS certified, organic dunlop latex. It also has a GOTS certified organic cotton cover and GOTS certified organic wool.
The Botanical Bliss Organic Latex Mattress is made with premium ARPICO organic latex.
CERTIFICATIONS:
GOLS – Global Organic Latex Standard
GOTS – Global Organic Textile Standard
OEKO-TEX Standard 100
GREENGUARD Gold Certified
PlushBeds is committed to providing you with healthiest sleep products on the market. In order to achieve this, we ensure that our products and our business meet the high standards of the most rigorous tests and certifications in the industry. Our Botanical Bliss Mattress is GOLS, GOTS, USDA, Oeko-Tex Standard 100 and GreenGuard Gold Certified. These rigorous, globally recognized, third-party verified standards define and ensure that the materials and products live up to the organic definition. They certify the entire production chain, from the USDA certified organic raw materials to the manufacturing of the final certified product. The organic materials are tracked throughout the distribution and manufacturing process, to ensure their purity. They also cover fair trade and labor practices and the environmental impact of the manufacturing processes along the way. Organic farming and pure, organic materials and production methods are very important to us. Learn more about all of our certifications here: plushbeds.com/certifications
WARRANTY: 25 YEAR WARRANTY
RETURNS: FREE Returns and FREE Return Shipping
SHIPPING: Free Shipping within the continental US
FIRMNESS OPTIONS:
Soft, Medium, Medium-Firm and Firm.
The firmness of your Botanical Bliss Organic Latex Mattress is completely customizable. Simply unzip the cover and rotate the layers to adjust the firmness. It comes with a FREE comfort exchange, where you can exchange a latex layer for a firmer or softer one, if needed, as well.
Also, the king & cal king sizes have the ability to adjust the firmness on each side of the mattress, so one side of the mattress can be firmer or softer than the other. This is great for couples with different firmness preferences and it works well with split adjustable beds as well.
MATTRESS MATERIALS:
1. ORGANIC DUNLOP LATEX:
Underneath your mattress' GOTS certified organic cotton cover, is the world's finest quality GOLS certified ARPICO organic dunlop latex. As America's largest distributor of ARPICO organic latex, PlushBeds brings the world's finest latex directly from ARPICO's certified organic plantations to your bedroom. Certified organic latex, as per the Global Organic Latex Standard (GOLS), is latex that has been processed using only organically-grown, milky-white latex sap tapped from the rubber tree, grown without chemicals, fertilizers, or pesticides, as well as being grown using one or more sustainable energy sources.
ARPICO Organic Latex is a 100% organic product, made from the sap of rubber trees. The main difference between organic dunlop and natural talalay is the latex sap is processed differently. As a result, the end organic dunlop latex product, comfortably supports your body, while providing resistance to sagging or body impressions. It makes a longer lasting mattress, providing comfortable cushioned support for many, many years. High quality organic latex can be the difference between years of long lasting or unpleasant sagging indentations after a short period of time.
ARPICO is one of the oldest organic latex manufacturers in the world, and worldwide pioneers in latex foam technology. PlushBeds has partnered with ARPICO as America's largest importer of superior-quality ARPICO organic latex – widely acknowledged as the world's finest 100% organic latex.
QUALITY YOU CAN DEPEND ON: Our mattresses are made with 100% solid ARPICO Premium organic latex. ARPICO's famed 5.5 million rubber tree plantation is certified by the Control Union-Europe's largest organic regulator. They contain NO Fillers, NO Dyes, NO Carcinogenic Adhesives, NO Chemicals, and absolutely NO Pesticides. The cleanest and purest, organic latex, just as Mother Nature intended.
PAIN RELIEF WITH APPROPRIATE SUPPORT: ARPICO's organic latex dense cell structure is uniquely resilient – allowing your mattress to absorb pressure while simultaneously being supportive. These benefits ensure the mattress supports the body and spine correctly, with natural buoyancy and elasticity – without being too soft or too firm.
HYPOALLERGENIC, MOLD AND MILDEW PROOF: Allergens, bacteria and dust mites do not thrive in ARPICO organic latex, as they do in mattresses made of other materials. Our organic latex is naturally hypo-allergenic and anti-microbial, keeping the air you breathe all night clean and pure. It is truly the healthiest sleeping surface available.
2. ORGANIC WOOL:
The GOTS certified organic wool in your Botanical Bliss Mattress provides many benefits. We use three times more organic wool than any of our competitors (up to 10 lbs in a king size bed). When used in the right proportions within a mattress cover, organic wool creates a micro climate, which assists in regulating body temperature and humidity. Our organic wool breathes naturally and allowing your body to get to a comfortable sleeping temperature quicker and maintain it through the night. Organic wool also wicks away moisture and it's dry and absorbent nature keeps mildew and dust mites away, while keeping you dry, cool and comfortable all night.
Also, organic wool's high keratin protein and moisture content make it naturally resistant to burning. Organic wool is the safest bedding material to naturally pass flammability tests without the use of chemical flame retardants.
Most importantly, our organic wool is carefully sourced from the USA and the wool is followed
through every stage – from the pastures to the finished product. We are meticulous about creating the best product possible and following industry-leading principles for sustainability and quality. In addition, high standards for purity are followed and flocks are managed in a humane, chemical-free, and environmentally safe manner.
3. ORGANIC COTTON:
A soft, luxurious GOTS certified organic cotton cover, in a soft, natural color, surrounds your mattress. The luxurious organic cotton cover is breathable, with unsurpassed non-restricted airflow and non-woven, as non-woven covers are softer, more breathable, more elastic, offer better moisture control, and provide better pressure relief than woven covers. Most importantly, the organic cotton for your luxurious cover, was carefully sourced from the USA and it provides safety, environmental integrity and care, because the cotton was grown without any chemicals, pesticides or herbicides.
Why PlushBeds?
At PlushBeds, we are dedicated a providing our customers with a Healthy and Comfortable Sleep Experience. All of our mattresses are handcrafted in our California production facility, with the purest and finest quality organic materials.
PlushBeds is proud to offer organic latex for our mattresses:

Because of its luxurious comfort
Because of its unmatched support
Because of it's health benefits which reduce pressure on your muscles and circulation
Because of it's resilience and long lasting nature
Because it's carefully harvested and manufactured through environmentally conscious processes.
Enjoy luxurious comfort, cushioned support, soothing pressure relief and a truly healthy sleeping experience on your PlushBeds Mattress.