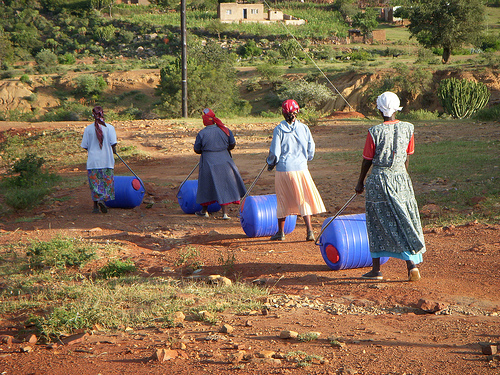 Hippo Roller
Today, November 28, we ask you to consider taking part in the global giving movement that is Giving Tuesday and help women and children improve their access to water, unlocking the most precious resource we have:
TIME.
Time for school. Time to play. Time to grow.
Your donation (https://hipporoller.org/donate) furthers our mission to provide simple, sustainable and scalable access to water around the world.
We're in a season of giving and thanks, and I would like to express our gratitude to all of our valued supporters. Together, we have changed the lives of many around the world this year — with more to come!
We appreciate your support!
P.S.
Share your support and encourage others to participate by tagging @hipporoller and using the hashtag #GivingTuesday on Twitter and Instagram.
About us
The "Hippo Water Roller Project" was established in 1994 in response to the unique needs and constraints in terms of access to water of rural women and children across Africa.Now simply referred to as "Hippo Roller", the broad social impact of this social enterprise has been felt in more than 20 countries, with a total distribution of 50,000 Hippo Water Rollers, and a reach of close to half a million people.

WE IMPROVE ACCESS TO
WATER

Hippo Roller works with rural and impoverished communities to help improve access to water. Our innovation makes more water and time available for education, household tasks and food production, enabling people to transport up to 5 x more water to their homes and food gardens.

WE PROMOTE SOCIAL
INVESTMENT

To make a durable and maintenance free solution for daily use in tough rural terrain is costly. We provide social investment and fundraising opportunities for NGO's, government, corporations, and individuals to purchase Hippo Water Rollers for those who need them most, but typically cannot afford them.

WE GROW A SUSTAINABLE
BUSINESS

Hippo Roller is a social enterprise that facilitates the distribution of its products to water-stressed communities, while addressing the challenge of end-user affordability. It has a hybrid business model to ensure its economic and social sustainability.

WE PROVIDE APPROPRIATE
TECHNOLOGY

The Hippo Roller is an immediate and appropriate response to the issues surrounding water access and food security with broad social impact. It is widely accepted in many countries by water-stressed communities.